The Vice-Chancellor Prof. R.C. Sobti today launched a new Website of the Panjab University at Computer Centre, Department of Computer Science & Applications,. The new website of the University is a dynamic website. The information displayed on webpages is coming from database. The University new website consists of more than 150 websites of different departments and facilities. All the departmental websites have now similar look and feel. The information relevant to a particular department available at main site will also be viewed at their respective departmental sites. The information if has its relevance to two or more departments, it will simultaneously be available to the respective departments through the database.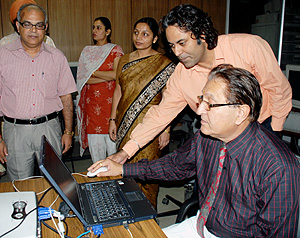 The new features like the forms relevant to different branches/sections will be available under different heads. Telephone Directory, Ph.D. thesis, Syndicate, Senate proceedings, news and announcements will also be made available to departmental websites. The new website will be of more useful to the public as it will be having cohesive and uniform information for the students and general public said Dr. Tankeshwar Kumar, Director, Computer Centre. He thanks Mr. Anil Sharma and Ms. Mamta and their team for website development. He added that the website has been fully conceptualized, developed and hosted at computer center, DCSA.

Prior to inaugurating the launch of the Website, the Vice-Chancellor extended the facility of the National Knowledge Network (NKN) provided by the Ministry of Human Resource Development to the University staff and students. In his presentation Dr. Tankeshwar Kumar, Director, Computer Centre said that National Knowledge Network is scalable and expandable network in which all the Universities including IITs, IISc shall be connected through a high speed bandwidth extendable up to 10 GBPS.

The NKN facility will provide access to computational resources, high speed connectivity, data sharing, increased Peer Group Interaction. The University shall be able to develop virtual laboratories, virtual class rooms, Video Conferencing facilities and online electronic resources. Panjab University is the first University in this region in which National Knowledge Network facility has been provided at the first phase.
Students and staff will be highly benefitted as they can set up countrywide real time class rooms, Grid Computing applications and shall be able to collaborate with the other networks in other countries for experiments like LHC and ALICE. Dr. Anu Gupta, Chairperson welcome the Vice-chancellor to the Department and thanks him for the encouragement provided to the members of the departments. Dr. Tankeshwar Kumar, Director, Computer Centre appreciated the efforts made by Mr. Ajay Guleria, System Manager for getting setting up the National Knowledge Network.

(Tankeshwar Kumar)
9815991816

{

General

}