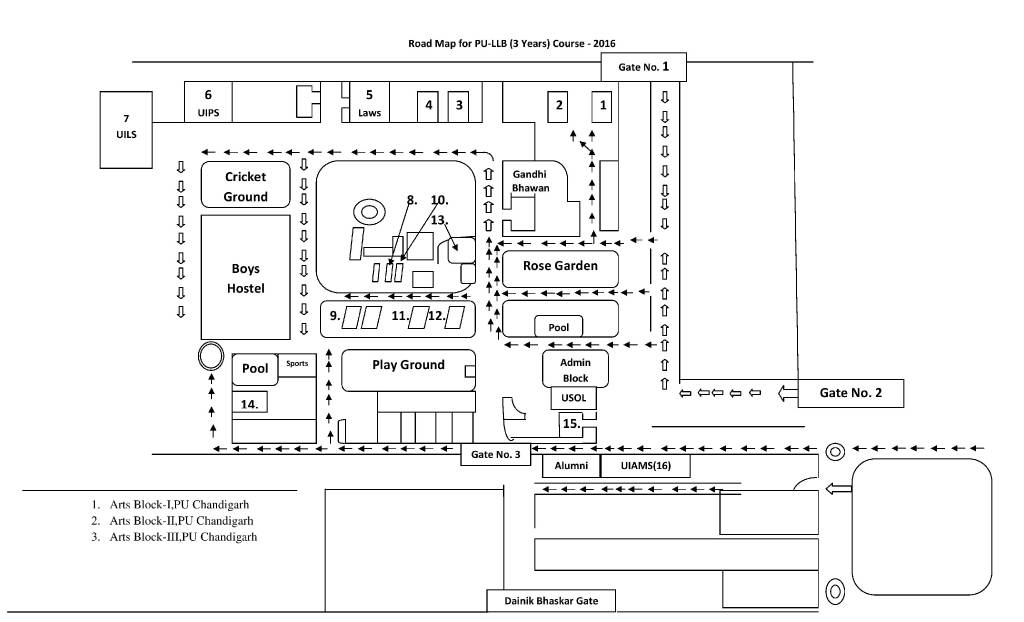 The Panjab University is holding P.U.-LL.B.(3 Year Course) Entrance-2016 on 19.06.2016 in the 16 different centres on the Campus. In this regard, all the candidates, who are to appear in P.U.-LL.B. (3 years) Entrance-2016, are advised to reach their Exam Centre/s at least one hour before the commencement of the Examination. In order to reach your exam destination and to avoid hassle-free entry to your Exam Centre, the entry of Vehicles for this test has been divided in four parts which is as under (route map is also enclosed).
Centre No.: 1, 2, 3, 4, 5 & 13 from Gate No. 1
Centre No.: 8, 9, 10, 11, 12 from Gate No. 2
Centre No.: 6, 7, 14 & 15 from Gate No. 3
Centre No. 16 from Gate Opp. To Sector-14, Gate No. 3
Videography of all the candidates will be done at all the Examination Centres of the Entrance Test. Parents are not allowed inside the Exam Centres. For their convenience on the campus (P.U. Chd) they can only sit at the designated placed i.e. in the University Auditorium. The candidates are also advised to bring their Admit Card issued by the University along with some Photo Identity Proof. No candidate will be allowed to carry mobiles, electronic gadgets or any incriminating material inside the Exam Centre.
Sd/-
Controller of Examinations
{

Examinations

}